Pastor's Message for January
Christmas finally arrived in the year 2020. Let's be honest – it probably wasn't what you expected last year. Even though the vaccine is out, Covid-19 is still affecting our lives. The family gatherings are smaller and the meals are not as lavish. People are still being careful so that they do not spread the virus. The area schools didn't hold their regular Christmas concerts. Instead, they were moved online so that you could enjoy them in the safety of your own home. We didn't have a "Happy Birthday, Jesus" with a birthday cake like we normally do. As a matter of fact, we aren't even holding Sunday School at the present time. It has been a very different Christmas.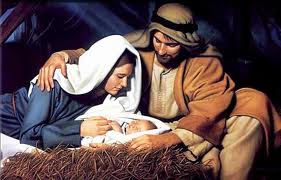 Even though it is different, it is not as bad as the first Christmas. Look at what happed the day that Jesus was born. It was a day of taxation. Nobody likes to pay taxes, but Joseph and Mary left the security of their hometown to go to Bethlehem to register for Caesar's tax rolls. They not only had to pay taxes, but also pay them to an occupying foreign country.

In was a day when they couldn't find a room. Nobody left a light on for them. All the rooms were taken by other out-of-towners who were registering for Caesar's tax. They had to stay in a stable, the place where they housed animals. There wasn't even a cute little drummer boy to entertain them that night. It was cold, dark and quiet.

It was a night where the King of kings was placed in a manger. The first place to lay his head was on the prickly hay in a manger. He was wrapped in strips of cloth. Just like when he would die, he would be wrapped in strips of cloth and placed in a tomb.

It spite of all these humbling events, it was a day when the angels would sing. They would praise a gracious God, who showed his mercy to sinful mankind. A whole heavenly host sang, "Glory to God in the highest heaven, and on earth peace to those on whom his favor rests."
It was a day of joy for lowly shepherds. They were watching their flocks at night. They left their sheep in the field so that they could see the Lamb of God who takes away the sin of the world. It was a day that turned them into the first missionaries. They would return so filled with joy and amazement that they spread the news to everyone that they met along the way.
It was a day of meditation. "Mary treasured up all these things and pondered them in her heart." She realized these events were important. She didn't fully understand them, so she pondered them in her heart.

This year may be different than other years, but it can still be a day of joy. It is a day of joy because Jesus did bring peace on earth. We still must endure wars and rumors of wars. We still must endure acts of terrorism and acts of rioting. In spite of that, we have peace with God – peace which surpasses all understanding, peace in knowing our sins are forgiven, because the Prince of Peace was born that first Christmas night.
This year can give us a special opportunity to ponder these events in our heart as we stay safer at home. We aren't distracted by the big family gatherings and the Christmas parties. We can reflect on what Christmas truly means to us. No matter what our circumstances, it will be a Merry Christmas. Jesus is the reason for the season. Don't take Christ out of Christmas.